FluurMat's flexibility and portability allow the system to be used and incorporated into a variety of situations.
Please select on from the menu below or take time to review all use cases. If you have questions, don't hesitate to contact us!
Interactive floor mounting solutions
FluurMat can be mounted in several ways and configurations, depending on your needs and use cases. Here you will find some of the most common mounting solutions.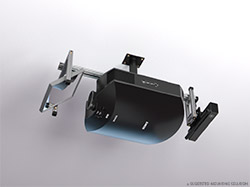 The ceiling mounted solution is perfect for incorporating FluurMat into a permanent interactive system. The calibration process in FluurMat allows for ceiling heights from 2.5 m to 5 m (and up to 8 m in some cases, however, at a limited accuracy). Once the system is installed and calibrated, it is ready for use! We have established business relations with mounting-kit manufacturers and can help you find the right solution depending on your criteria. Don't hesitate to contact us for more details!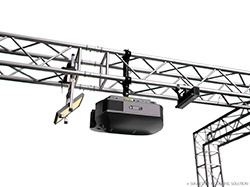 FloorMat can be mounted on a temporary construction (truss) and set up at any place where there are lots of children. This allows the system to be used for rental and mounted at children events. Naturally, given the fact the system requiters a projector, it is better used at evening events and environments with limited lighting. The system allows for many simultaneous players and makes a great and engaging attraction.
Return of investment (RENTAL): 20 RENTALS*
* BASED ON ESTIMATED CALCULATIONS FOR ALL COMPONENTS; PRICE DATA FOR THE HARDWARE QUERIED FROM AMAZON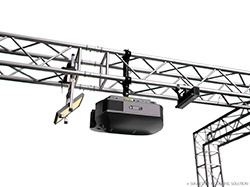 For most of the native games, the system can be used at places with limited connectivity. In fact, it can even be used outdoors, provided you cover the construction and protect it from rain and harsh weather. The system cannot be used during daytime, however it literally makes a beaming attraction during evening events!
Return of investment: (RENTAL): 25 RENTALS*
* BASED ON ESTIMATED CALCULATIONS FOR ALL COMPONENTS; PRICE DATA FOR THE HARDWARE QUERIED FROM AMAZON
In many cases affixing the system permanently to a ceiling is not desirable or even achievable. We, for one, also believe a projector and a motion sensor may find many other uses around an educational institution. Therefore, we've ensured that FluurMat can also be set up a portable system. This is achievable by mounting the projector and sensor on a so-called 'light traverse'. Naturally, other similar mounting constructions are suitable, provided they are strong and sturdy. Using a triangular traverse ensures it can support the weight of a normal sized projector. Furthermore, by mounting the projector horizontally and using a mirror, the wide side of the projection on the floor is oriented away from the supports. Fuhrer stability may be achieved by mounting 'caps' on the top of the traverse; the traverse is then raised as high as possible and the caps are 'pressed' onto the ceiling surface. While the supports may prove to be a bit restrictive, the projected area on the floor is just as big as with a ceiling mounted solution. A portable floor interactive system is also great for all sorts of events and gatherings (hint: Christmas and Halloween Parties!). Get in touch with us to find out more about the mounting solution or if you have questions.
We've already mentioned FluurMat was designed as a high-quality, but also an affordable solution. We back that claim by the fact the system has even found its place at very casual events and parties. All you need is a 'light traverse' or another similar construction and you can turn your projector and Xbox Kinect into the ultimate interactive floor! Please note, however, that you still need a sturdy construction that can support a projector. Furthermore, mounting a projector vertically is only advised for inexpensive LED projectors. Notice that the projection is aligned with the construction when mounting the projector this way. This makes the play-area more restricted. Nonetheless, we've seen a good number of use cases with this type of solution and the system is just as fun to use!
FluurMat can be embedded into your custom arcade kiosks. With years of expertise in game design and a team of developers and artists, we can design the game that's right for you. Get in touch with us to find out more about our services and branding options.